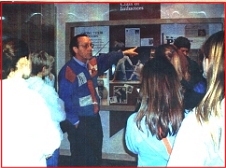 Educating Oregon's Kids

Click on Letters to read.

Click on Letters to read.

The Oregon Sports Hall of Fame and Museum launched the Joy of Sport Program during the 1999-2000 school year and qualifying schools and programs have enthusiastically received the program.
Many schools have limited budgets for activities outside of the classroom and this is especially true for schools serving low-income families.

Practice kicking around a soccer ball!
Hundreds of children who might not otherwise be able to visit the Hall of Fame have been able to come due to the generosity of corporate and individual donors/memberships.

Test your skills and see how fast you can power out of the starting blocks.

Test yourself on the racing wheelchair to see how you compare to top athletes!

Climb into full hockey goalie gear and have your picture taken.


Enjoy all of this and many other interactive exhibits and activities, such as ping pong, foosball, table hockey and much more at your next party! Contact us for more details




The Hall of Fame and Museum is presently closed while we relocate our facilities.

We are working with a number of potential partners to re-open and will post new information as it becomes available.